January 5, 2022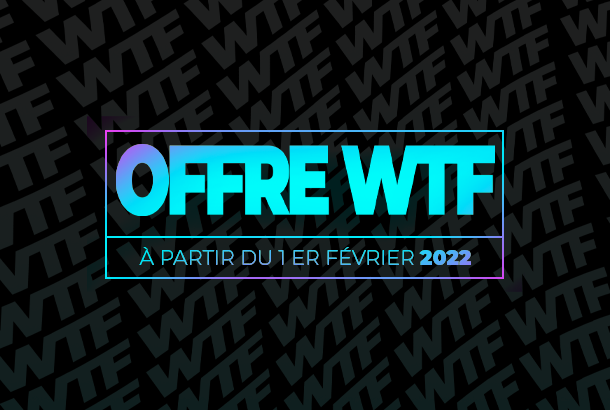 National
WTF Offer - INTERNS AND SEASONAL WORKERS
FUTURE INTERN OR SEASONAL WORKER? WE HAVE THE RIGHT SOLUTION FOR YOUR ACCOMMODATION!
At Suitétudes, we know that when you're an intern or a seasonal worker, finder an accomodation without being broke can be quite a challenge!
That's why we are back again this year, to guide students in their mobility, we have decided to simplify their search and contribute to offering them good living conditions during their internship or their seasonal work.
FROM FEBRUARY 1ST TO AUGUST 31ST DISCOVER THE WTF
[WONDERFUL TRAINEE'S FEELING] SOLUTION AND BENEFIT:
• From February 1st to August 31st
• A FURNISHED AND EQUIPPED STUDIO FOR 380€* IN A REALLY FRIENDLY STUDENT RESIDENCE!
• WITH A SUPER EASY BOOKING:
• 0 guarantor
• 0 deposit cashed
• 0 administrative fees
4 REASONS TO CHOOSE THE WTF SOLUTION
Student residences everywhere in France: Montpellier, Lyon, Toulouse, Marseille, Nantes, Clermont-Ferrand, Rennes, Nevers, Villeurbanne, Nîmes, Nantes, Avignon, Limoges, Blois, Aulnoy-Lez-Valenciennes, Rouen, Reims and Béziers … One of those cities might be your next destination, so if you are interested, contact the residence's manager of your choice ;)
A really easy booking procedure: done with printing, scanning, and emailing tons of papers, and do it again and again, WTF is a unique form you have to complete, and join a internship or seasonal contract to it.
A styled accommodation in a multi-services student residence: equipped kitchenette, study area with storage, sleeping area with available bed linen changed monthly, and a private bathroom … For 2, 3 or 6 months, UXCO residences are your new #HOMESWEETHOME!
A price adapted to sudents' budget: With the WTF offer, get a comfy accommodation from 380€* per month! No, you're not dreaming ! And the best thing about it is that there are 0 administrative fees, 0 guarantor asked and 0 deposit cashed. #WOW
Tempted? Download the form now!

* Studio from 15 to 25 square meters
Some residences also offers one-room apartment for 41€ and one-bedroom apartment for 520€.
(Electricity + water + Internet included**)
Download now the booking form!
WTF, a The Real Lease offer
*395€/months for the following residences Albert Thomas in Lyon, le 124 in Marseille, Citadelle in Montpellier, Kampus 30 in Nîmes, Métropolis in Rennes, Thales in Toulouse and Hugo Park in Villeurbanne. Tourist tax to be added
** upon availability and as long as stocks last in participating residences - internet is not included in Les Moulins residence - offer available from 02/01/2019 to 07/31/2019 for the following residences : Albert Thomas, Carré Villon, Andromaque, Oxygène - offer available from 02/01/2019 to 08/31/2019 for all other participating residences - Minimum stay of 2 months, see all General Sales Condition in the booking form.